Are you wondering why your Pinterest Impressions are going down and what you can do to increase them? I'm happy your here because I want to tell you exactly how I'm having success growing my impressions by showing you these super simple and effective PINTEREST SEO tips.
As a brand new blogger, I was ecstatic when I saw my Pinterest views hit 1,400,000!! I've been working so hard and I know that the more my pins get in front of people the more traffic my blog has a chance of getting!
In this post I'm going to guide you through the steps I took to increase my views to reach over 1.4 million impressions (as I write this post). As you implement these Pinterest SEO tips you should hopefully see an increase in your Pinterest presence which can, in turn, mean lots more blog traffic!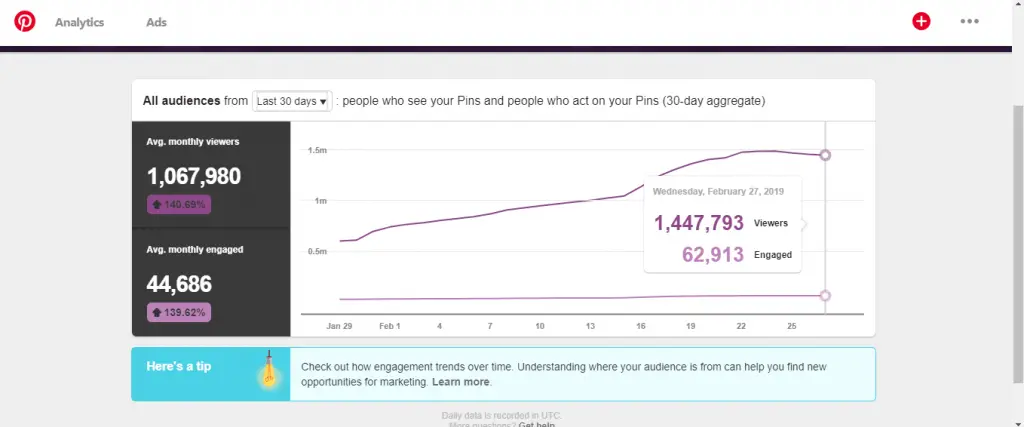 What are Pinterest Impressions?
Let's start with a quick explanation of what Pinterest Impressions are.
Pinterest Impressions, per Pinterest, are the number of times a Pin from your profile has appeared on Pinterest home feeds, category feeds and search."
Do you see that number on my profile below?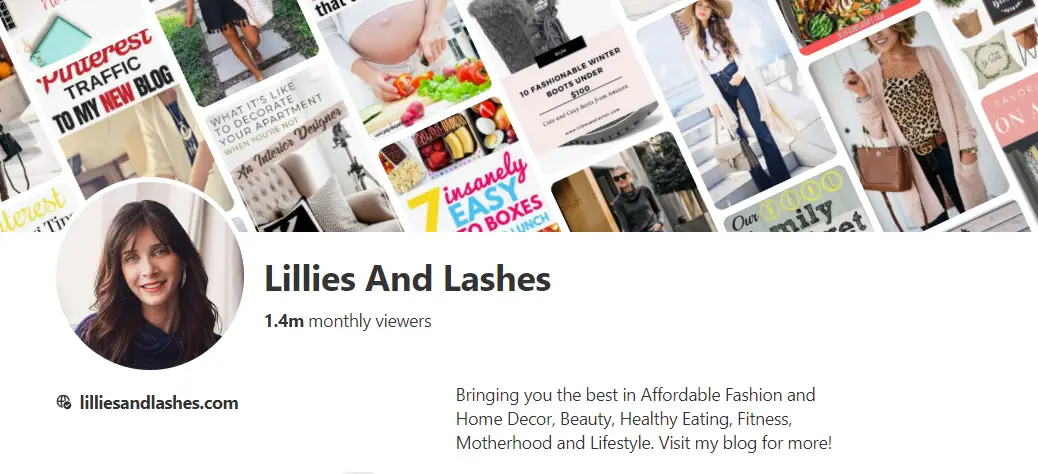 That is where you can find what you're impressions are. Now let me be clear on something. Impressions does not mean you are getting 1 million clicks on your pins or a million visitors to your blog!!
Impressions simply mean that your pins are getting in front of that many people per day. That will hopefully translates into a higher percentage of people clicking on your pins and visiting your site.
If no one is seeing your pins what good is it? If only you're followers are seeing your pins and you're like me just starting out it's going to take a long time till you see any traffic. The more eyes on your pins the more traffic on your site!!
While many say impressions don't matter, they do as far as getting noticed. The rest is then up to you . You need quality content and awesome pins to get people's attention which can translate in saves and clicks!
First, I want to outline the basics, because I don't want to assume you have done these things already.
Pinterest SEO Basics
Create A Business Account
By creating a business account you get this pretty profile page where all your latest pins are displayed. In addition, you will get access to Pinterest Analytics which will tell you how many Pin impressions you're getting and statistics on your demographics. It tells you what your top performing pins are as well which is key for marketing. If you don't know what's working for you how can you ever improve?
Here are the steps to convert to a business account
Claim Your Site
In order to see how well the pins for your website are doing, you must claim your account. Then you will have access to Pinterest Analytics where you can monitor which pins are performing best for you.
Another benefit to claiming your website is that your profile picture will show up next to any pin you create from your site. I think this is a big deal because the longer your presence on Pinterest people gets to know your name and profile picture. If you are consistently posting good content people will gravitate automatically to your pins.
Here is how you can claim your account
Set Up Rich Pins
Rich pins show more information about your pins. If you change anything on your site such as title or context it will automatically update the pins associated.
Here is an example of one of my Pins. You will see the nice bold text at the top of the pin with the description and my site name as well as the bottom text.
If you're wondering why some pins have that nice black bold text that's why! They set up Rich Pins. I highly recommend doing this as it makes your pin look really good.
Here is how to set up Rich Pins.
Boards
Clean up your boards and make boards secret that you don't think to apply to your business or the look you are going for. If you created some boards that just don't fit your style or have incorrect pins in it that are not relevant to the board then you want to make it secret. Don't delete as it can delete the followers and Pinterest does not like us deleting boards!
Try to make sure your top boards have a good amount of pins. The recommended is 50 pins for each board. I did this for all my mainboards that were applicable to my website and the niches I am associated with.
I still have a few boards that are newer that do not have more than 20 pins and I see this with a lot of top bloggers as well. However, I have almost 100 boards as of now. So it's definitely important to fill up your boards with relevant content so you have more for people to view.
Pinterest SEO: A Step Up From The Basics
So now that you are all set up and have a professional looking account you are on your way!
KEYWORDS to Increase Pinterest Impressions
This is a must do if you want to be successful on Pinterest. Another word for this is Pinterest SEO, Search Engine Optimization. There are 250 million active Pinterest users(Source). There is so much potential for marketing your blog or business, but how do you get noticed? You are like a grain of sand on the beach. You may have the best content out there, but if your Pins are not properly SEO'd then they will never get in front of anyone because Pinterest doesn't know what they're about!! So how do you get people to find your awesome content? It's all about SEO optimizing which means Keywords!
KEYWORDS: Pins
Adding keywords helps your pin show up when people are searching for a specific topic. Pinterest needs to know what your pin is about in order to show people. If you don't add descriptive keywords to your pins then it has to guess what your pin is about. If Pinterest doesn't know what your pin is about it's not going to show it to people. Simple as that.
That is why SEO optimization for your pins and boards is critical to getting your pins seen!!!
Appropriate keywords will also help your pin circulate quicker. Now, this is going to take you more time to do, but it's NECESSARY it if you want results. Don't skip this step!!
So how do you know what Keywords to use?
Okay, let's take one of my pins for example. I did a round-up post on Spanx Leather Leggings.
I created my pin and then it was time to fill out the pin description. How did I know what keywords to use? I went straight to the Pinterest Search Bar!
I type in Spanx and look at all the keywords that come up!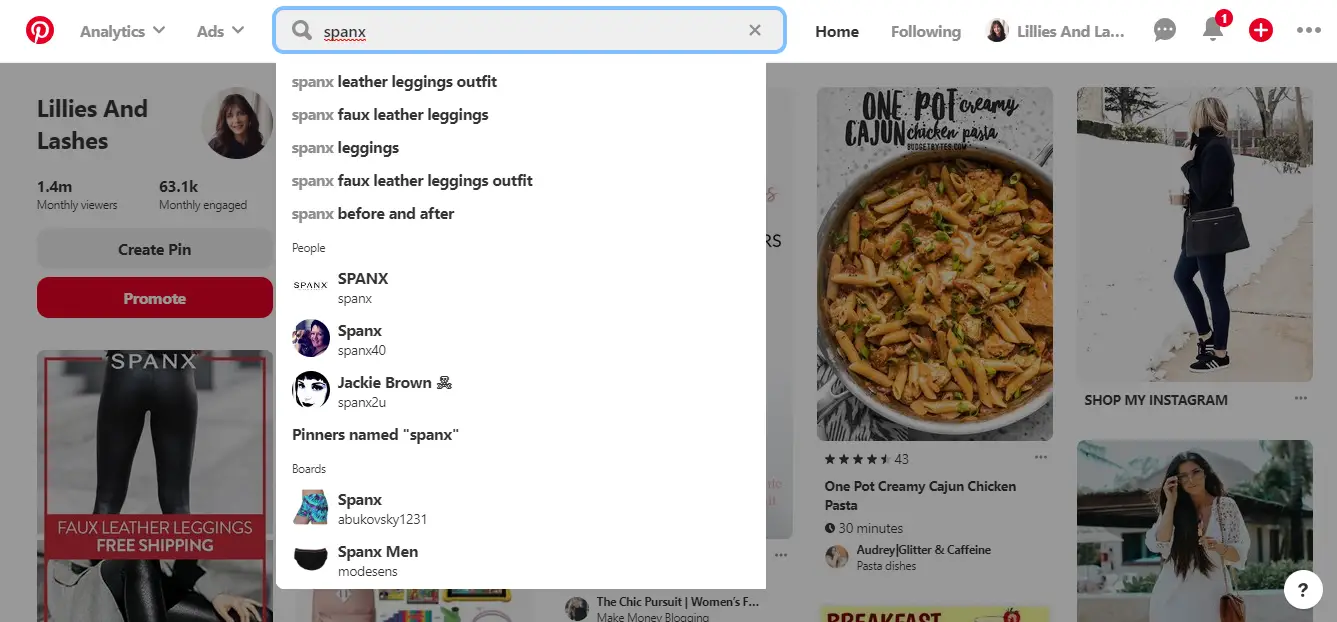 I use one or two of these keywords that appear in the drop-down and then add them to my pin description or I hashtag these Keywords.
I like to niche down even further so let's click on one of the options.
I click on SPANX Faux Leather Leggings. Now let's see what comes up!
First I 'm so excited to show you that I am showing up 3rd in search results!!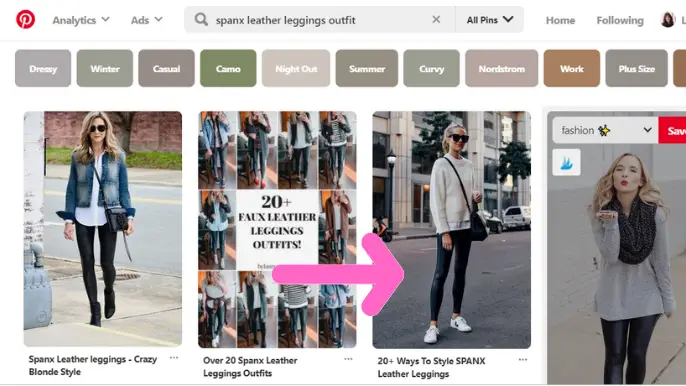 That means when someone types that into the search bar they are very likely to see my pin and click on it since it's ranking at the top.
Okay now back to niching down. Do you see these blocks?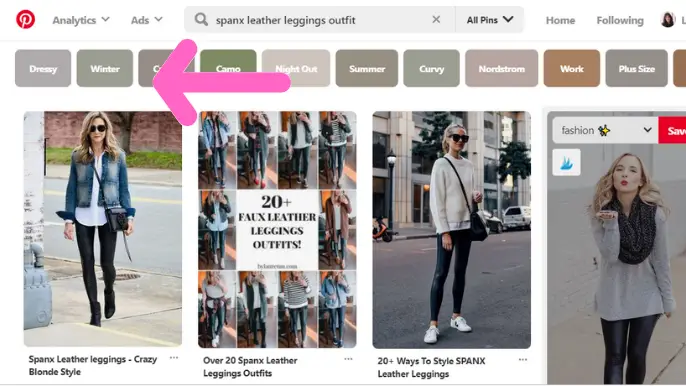 These are more keywords you can use to add to your hashtags. If you click on Winter it further narrows the search. You can include a sentence in your pin like, Spanx Faux leather leggings are perfect for Winter. I sometimes just include it as a hashtag like this, #SPANXFauxLeatherLeggingsWinter.
After this, I then went back and searched for Leggings. I used that for a keyword. You can create different pins with different keywords and see what performs best as well.
When you create your pin description I wouldn't just put the keywords alone. I would write sentences with the keywords in it so that it flows naturally. Then at the end add a few hashtags.
From my research, I found that Pinterest doesn't like the Pin to just be "Keyword Stuffed." So to be safe I write sentences and then finish with hashtags.
KEYWORDS: Boards
Your boards need to be properly Keyworded as well. This is also a good Pinterest SEO. Make sure you add descriptions to all your boards so that Pinterest knows what your board is about.
I have found that now it is important to add full sentences with keywords included in your board description.
Here is an example of what I wrote for my Fashion//Spring Board
Nothing fancy. Just a simple sentence with some keywords thrown in.
For your board name, no more cute and clever board names:) Pinterest won't understand what the board is about. I love the cute names, but if it doesn't help market my pins properly than it's not worth it.
Use simple Keywords like, Fashion, Recipes, Blogging Tips, Budgeting, Spring Outfits. Not as fun, but it will bring you more traffic to achieve your goals!
Remember, Pinterest needs to know what your pin is about in order to be able to show it when people are searching. Otherwise, it won't get shown in their feed. The board you pin your pin to as well as the pin description itself go hand in hand in identifying to Pinterest what the pin is about!
KEYWORDS: Profile
Here is another place you want to throw in a few keywords. Again, it helps Pinterest understand what your profile is about in addition to showing others what they can expect to see from your site or boards.
This way your profile may be recommended to others that are searching for topics that pertain to you! That means more followers!
Here is what mine looks like today. Don't worry if you don't love what you come up with. You can change your profile wording at any time. Bloggers are always changing their profile. It can grow along with you:)
Consistent Pinning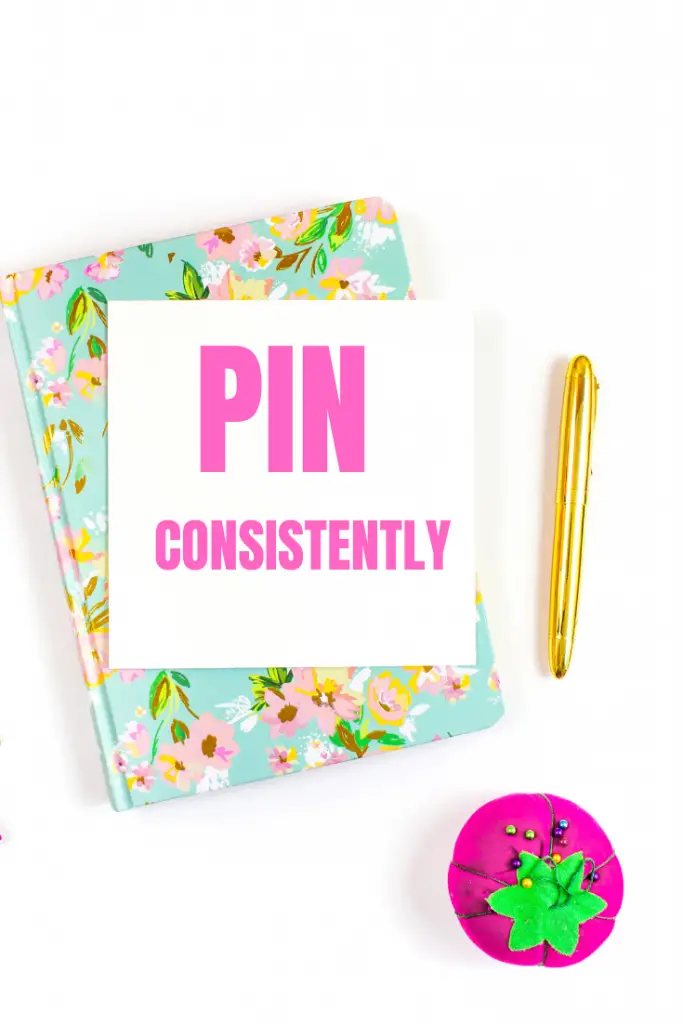 When I started my Pinterest marketing journey I had no blog. I wanted to first master Pinterest (as best I could) and understand how to use it. I pinned consistently every day using a combination of Tailwind and manual pinning. I probably pinned around 30 pins per day.
In addition, every pin I repinned had to have a good description with keywords. If I liked a pin, but the description only had one word I would add my own description and add keywords.
After a few pins started getting a lot of repins I was able to get up to about 700k impressions! That was with less than 100 followers.
At about that time, I started my blog. I have very little time to work on it so any free time I had gone to get my blog ready and writing posts. I totally neglected Pinterest for about a month.
Well, that had a huge effect on my impressions. The pins that had a high pin count came to a stop around that time and my impressions dropped daily. I would pin maybe 5 pins a day or so, but the impressions kept dropping in big numbers.
When I saw that happening I started to focus my efforts back on Pinterest! I decided to pin around 55 pins daily. Slowly but surely my numbers started climbing again. It probably took about a week to two weeks to take effect.
I did a combination of manual pinning and using Tailwind to schedule 45-50 pins a day. This saved me so much time as I just can't manual pin that many pins throughout the day. I need to do it all when I can and let Tailwind send them out at the best times.
Here is a free trial for Tailwind. I highly, highly recommend it. It's a huge timesaver!! If you aren't able to pin at your high traffic times every day you can schedule your pins days or weeks in advance. It's awesome!!
Pins with High Repin Count
I believe this is key in seeing growth as well. Pinterest wants us to pin quality content. That means we need to look for pins that have high repinned counts!! How do you know what pins have a high repin count?
Take a look at this pin below. This is not my pin, but a pin that I repinned from someone else…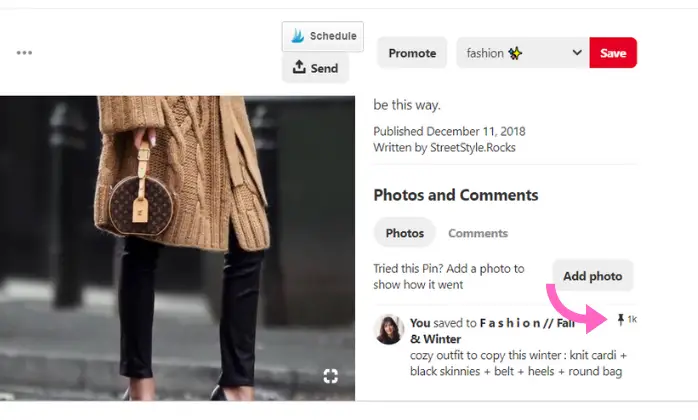 The arrow is pointing to the repin count. This pin has 1k repins! It still continues to get saved to boards daily which means it is helping my impressions stay up.
That's what you want to look for! High repin counts!
A quick way to do this is to think of a topic that you already have a board created for. Let's say you have a board for Healthy recipes.
Do a search in the Pinterest search bar for Healthy Recipes. Let's see what comes up!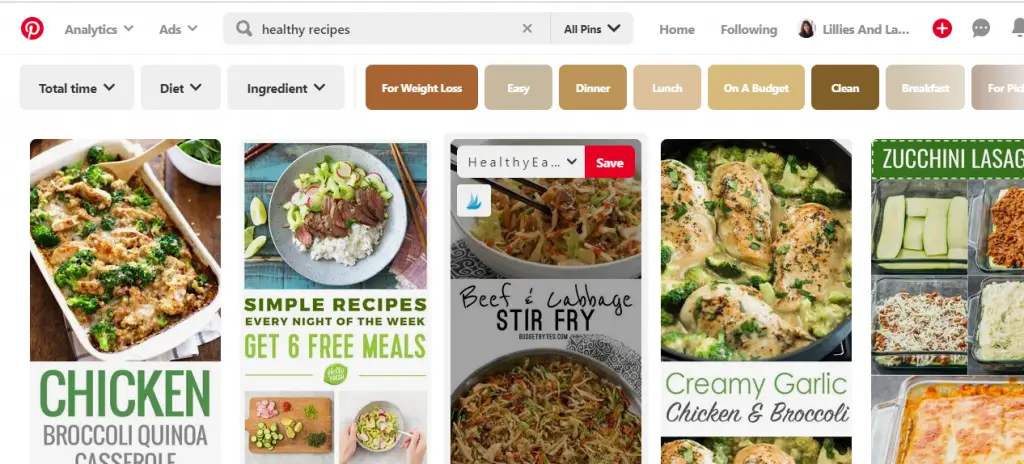 See that first Image? Let's click on that to see the pin count.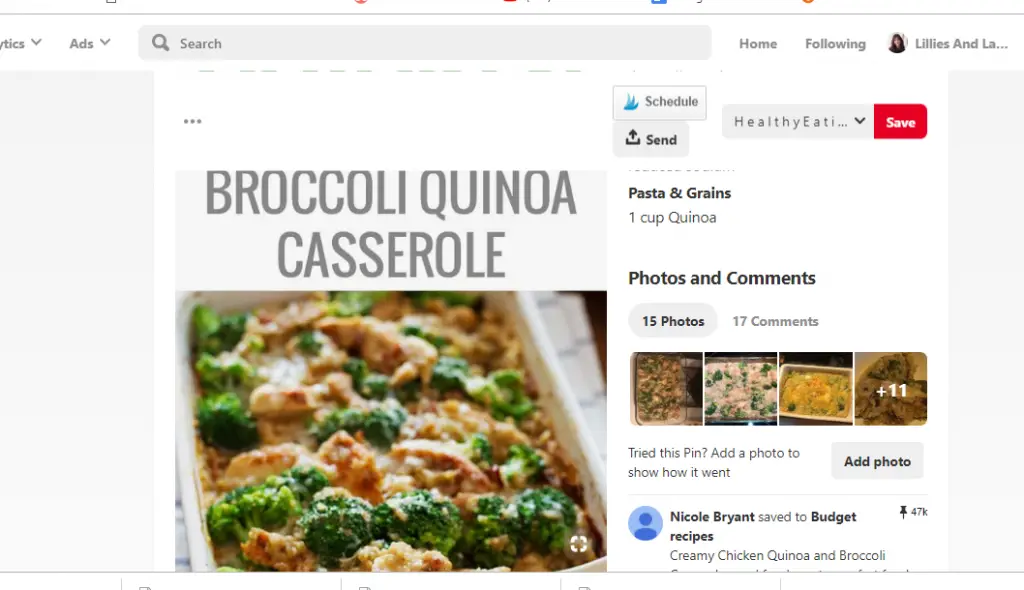 So this pin has 47k repins. That's amazing!!! The perfect pin for your healthy recipes board. Always check the link to make sure it's legit. Sometimes the links are broken or it may lead to a bad site. The top pins that show up after you search always have high repins.
So that's what you want to do when your pinning and scheduling.
Look for really good content to pin.
However, that doesn't mean don't pin anyone's new pins! I am always pinning brand new pins. I want to help others like so many have helped me and you never know when a pin is going to be a hit. So I just do a combination of" newish" pins and older pins with high pin counts.
As you continue to do this you will have lots of quality content out there over the years that will keep your impressions up which probably means you can pin-less daily as you grow.
I have a pin that went viral, completely stopped and all of a sudden is starting to pick up again 3 months later. Strange how it happens like that.
When that happens, your impressions will go up!
Keep in mind your impressions are always going to fluctuate. You may have a pin go viral which will show a spike in impressions, but it will eventually come back down.
Let's Review What We Discussed
Step by Step Recap:
Create a Business Account
Set Up Rich Pins
Clean up Your Boards
Keyword Your Pins, Boards, and Profile
Pin Consistently- Pin Your Own Content, Pin High Repin Pins of others as well as new content from others.
I'm obviously not guaranteeing that doing all these things are going to get your impressions up and will grow your blog traffic. I can only tell you what my experience has been. I hope that if you implement these tips you will have great results too. Be consistent with whatever you do for a few weeks so you know what's working for you.
Originally Posted on stephsocial.com (KPIs) Key Performance Indicators are measurements you can use to determine how well your blog is doing. It's hard to be
Read More »
Originally Posted on lilliesandlashes.com Are you wondering why your Pinterest Impressions are going down and what you can do to increase them? I'm happy your
Read More »
Originality Posted On dollarsketch.com This post may contain affiliate links. This means that, at no cost to you, I may receive a small commission if
Read More »
Originally Posted on stephsocial.com (KPIs) Key Performance Indicators are measurements you can use to determine how well your blog is doing. It's hard to be
Read More »